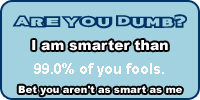 Am-I-Dumb.com - The Dumb Test
What I want to know is ... if I got 25/25,* how is that 98.96%? Or maybe I'm not quite smart enough to figure out what they mean by that ...
Also, be warned: this test discriminates against people unfamiliar with American history. On the other hand, it also includes questions about the metric system, so maybe it evens out... bloody stubborn non-metricky country.
Be warned again: you can get your results
without
entering all your personal info at the end, just hit 'back.' And if that takes you to the last page of the test, hit 'forward.' And if that doesn't work, perhaps it's just a Firefox thing – which
all
intelligent people use.
*occasionally by guessing...